Adult Cats Available for Adoption
Below are some of our adult cats available for adoption. This page is updated frequently, so visit often.
If you're interested in adopting an adult cat, please complete our adoption survey and tell us what you're looking for.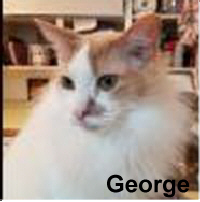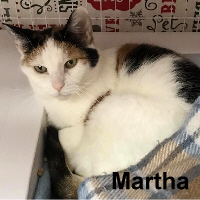 George and Martha
If there ever was a pair of friends, it's these two. George is more outgoing and always looking for a handout (of food!). Martha is coming into her own and being more adventurous. Both of them are beautiful and soft.. just waiting for a home together.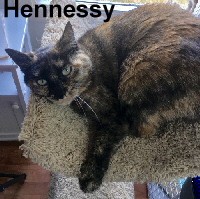 Hennessy
Pretty girl.
The Torti can come out in a house full of cats, however give this girl a home of her own and she will invest herself in pleasing you. Hennessy is a beautiful girl.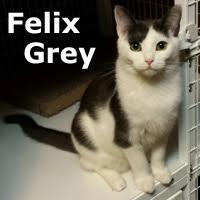 Felix Grey
And his magic bag of tricks
The magic is in his majestic eyes and the trick is giving him the time and patience to trust and adore you. Slow to purr, but ever so rewarding.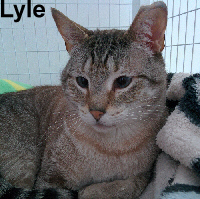 Lyle
Cause we Lovitt
And love him so much. Behind the shy exterior is a marshmallow waiting to explode. Sweet and tender, he'd appreciate the same in return. His blue eyes have a great deal of sensitivity to the bright flash of the camera.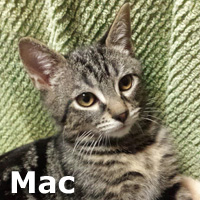 Mac
Big Mac.
Mac has blessed us with his presence and is ready to reign in his own castle. This long, tall, gorgeous boy is sweet and loving and yet can let you know if you are not pleasing him. He is smart and intelligent and knows how to win your heart.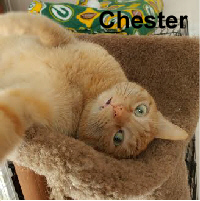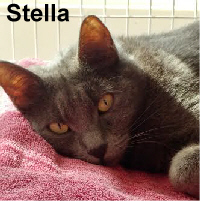 Chester and Stella
Double dose of cuteness!
Illness brings these two dear kitties back in search of another home. If you are looking for a pair of cats that will provide companionship, these two are indeed a loving social pair. Stella and Chester have outgoing sweet temperaments.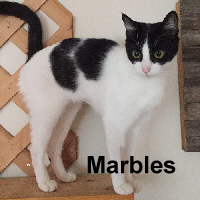 Marbles
Easy to please with a warm lap and savory salmon treats.
This playful girl is happy as can be with a little space and a paper bag to pop in and out of. It's hard to believe the trauma this young sweet girl has endured. She is now hoping to spend her life as the only feline, but would gladly accept a dog as her housemate. Make room in your bed for this sleeping beauty!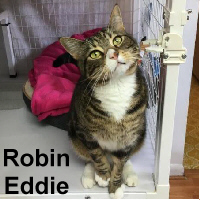 Robin Eddie
So adorable.
Handsome and loving, this fine fellow needs to be noticed. He wants all your attention, although he is not reaching out to touch you. Want a nice gentleman to become part of your family and lavish you with affection?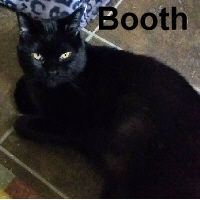 Booth
The votes are in!
Quiet and a little shy, Booth knows how to pick his person and if you are lucky he will pick you. He has a lot of love to give and will be grateful to receive a quiet home and a gentle hand and someone to sing to him.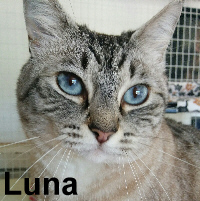 Luna
Shining bright.
This adorable lady has a round face with big blue eyes. She would thrive in an environment that is a little quiet with windows for observation and your attention focused on her.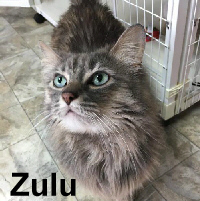 Zulu
I kneed purrson.
This lovable lady is looking for a special person that wants an affection cat that loves to be groomed and, is eager to please. Sweetness through and through.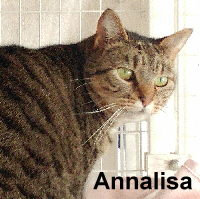 Annalisa
I can sing!
If you don't talk to your cat, who will? Annalisa is a talkative lady and likes you to talk to her. Expressive and charming and adjusting to the new normal for her, Annalisa went without vet care and is happy to be healthy again.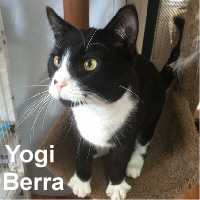 Yogi Berra
Hey there Boo Boo.
Just adorable, inside and out. This exuberant young fellow will blend in and bring some sunshine year around. He exudes charm and you can't help but smile.