Adult Cats Available for Adoption
Below are some of our adult cats available for adoption. This page is updated frequently, so visit often.
If you're interested in adopting an adult cat, please complete our adoption survey and tell us what you're looking for.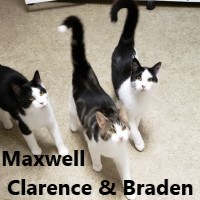 Maxwell, Clarence, and Braden
Triple delight.
Triple the pleasure, triple your fun, these adorable brothers are ready to run. They have outstanding and amazing personalities and really are happy boys and the world is their playground and they are one another's sleeping buddies. Add a little magic to your home this winter.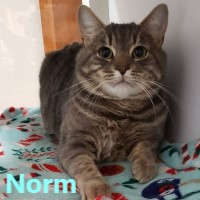 Norm
#hunk, #cheeks
This very handsome guy is just resting and recovering after being homeless. He is a little reserved and still trying to figure out how he ended up at our facility. Large and lovable, Norm is seeking a quieter home and a loving companion.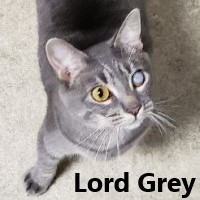 Lord Grey
Handsome, Lordy!
He is young, active and always in motion. Give him a toy and be entertained. Give him love and he will show you love. Feed him and he will eat. He is just a boy wanting to enjoy every moment of every day.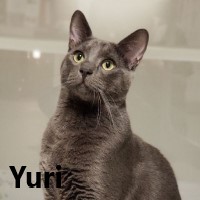 Yuri
A delightful boy.
Orphaned young and raised in a kind home as an only cat. He is enjoying learning to play and interact with others. He has a passing grade.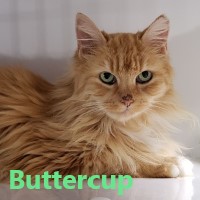 Buttercup
Just blooming.
If only we knew her story, we could provide her with the necessary comforts. Living outside and having challenges with trust issues of the two-legged variety, this little lady is in search of the right home where she is a focus in your world. She welcomes a slow steady hand, with a gentle touch.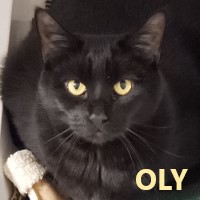 Oly (Aly)
Lovely Lady.
Oly has done well on her extreme weight loss challenge and it is all in the food choices you make. She is an interactive black beauty that has a lot of charm about her. She is without a doubt a standup comic in her spare time.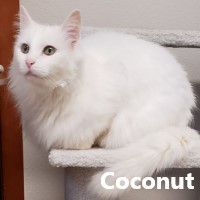 Coconut
Put the lime in the coconut …
This lady has been all stirred up. At no fault of her own, she has ended up in "the rescue system" again. We feel strongly she is safe until the right purrson comes along. Deaf, quiet, and seeking a stable quiet FOREVER home.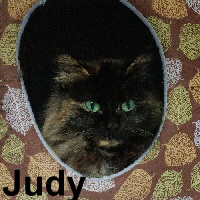 Judy
Don't Judge Judy.
Judy is one of those adorable girls that knows how to charm her way into your heart and she is quite the little sweetheart and ready for love. Let Judy be the judge of her new forever home, call to schedule an appointment.