Adult Cats Available for Adoption
Below are some of our adult cats available for adoption. This page is updated frequently, so visit often.
If you're interested in adopting an adult cat, please complete our adoption survey and tell us what you're looking for.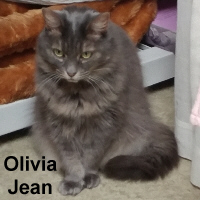 Olivia Jean
She's a lady!
A special lady that is low maintenance. She would enjoy her own person to sit with and hold casual conversations with about the wonderment of things that squeak and scurry in the night, to gently brush her and take a few selfies.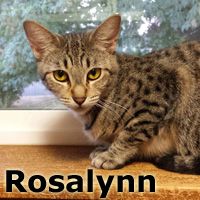 Rosalynn
Her turn to shine.
Motherhood came early to this sweet girl. Now that her kittens have moved on, it's her turn to be a kitten herself. She loves to hunt for toys and is an avid birdwatcher from the sun warmed windowsill.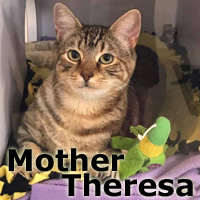 Mother Theresa
Her work has just begun.
With a lot to say and much work to do, she cannot wait for her new home. Let's just hope that the people are ready to give and spread the love. Theresa is ready.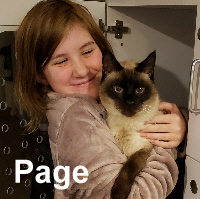 Page
His life starts now.
From roaming to restful, Page is ready to write the rest of his story. He has turned the page on his past and is ready to begin his forever life with you. He is sweet, mellow and a bit chatty at times. He wants to be loved and is happy to shower you with the same affection.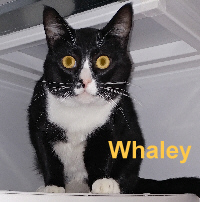 Whaley
Handsome tough guy.
He is not near as tough as he would like to think he is. He has come to love his life indoors and appreciates not being bullied. He's dressed for success and ready to meet you.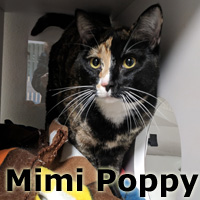 Mimi Poppy
Blooming darling!
Mimi is a wonderful and delightful girl that has energy for entertainment and love to share. She is a darling and always ready for fun.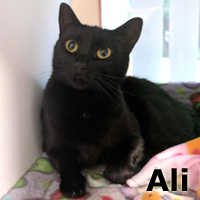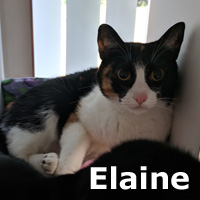 Ali and Elaine
What's a girl to do.
When you are removed from your house and not provided for what do you do? A fairy swoops in, picks you up, provides you with comfort and a place to stay, you're thankful. When you need a new home, you get on your cell phone and post selfies (and wait). We are waiting and we are wonderful!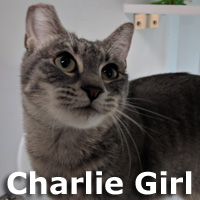 Charlie Girl
When you hit bottom, there's only one way up.
Charlie has had some tough times, bumps and bruises and is still happy go lucky. Beautiful inside and out and always happy to see you.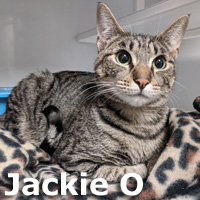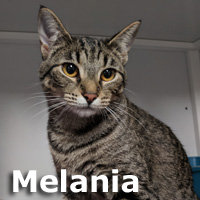 Jackie O and Melania
Sisters and best friends.
These two young ladies are in need of their own indoor treehouse. With lots of energy and a new life ahead of them, they are anxious to move on up in the world. They will keep you entertained and amazed with their feline abilities.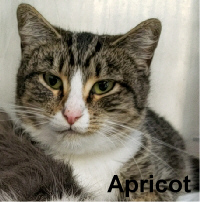 Apricot
Sweet anytime of the year.
Just anxious for a home with a regular routine and a dinner bell. Knows what life is like homeless and being self sufficient, Apricot is ready for a little richer life and love.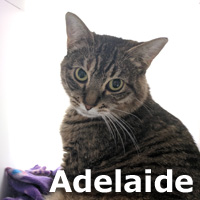 Adelaide
Self sufficient.
Hold up at a local storage facility and living a life with a bowl of food now and then, having kittens in storage units and keeping her babies safe. Ready to bond with you and looking for a quiet home.