Adult Cats Available for Adoption
Below are some of our adult cats available for adoption. This page is updated frequently, so visit often.
If you're interested in adopting an adult cat, please complete our adoption survey and tell us what you're looking for.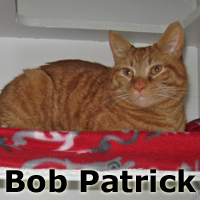 Bob Patrick
With the luck of the Irish ...
on his side, this red haired golden eye sweetheart is ready to find his pot of gold. Arriving on St. Patrick's Day, Bob settled in nicely to his new surroundings while he awaits to share tales with you.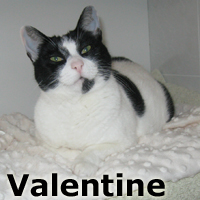 Valentine
A darling little lady with a big heart.
Left by her owner after moving out of the area, a kind couple took mercy on her and kept her safe. She is very happy and would like nothing more than to share her love with YOU.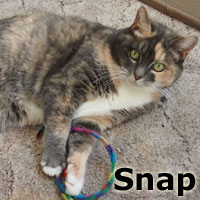 Snap
Out of solitary confinement.
After two years living in an empty house due to her former humans divorcing, Snap was transferred to a foster home. Snap has asthma and will need to have a clean indoor environment to stay healthy. With her former challenges behind her, she is ready for a fresh start. Snap enjoys playing and will spend hours being entertained with a wand toy. Saying Snap loves to play is an understatement.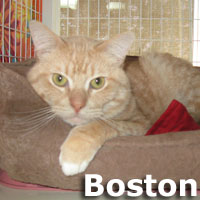 Boston
Cute as he is expressive.
Boston will steal your heart if you allow him to look into your eyes. He seeks a quiet home where he can be relaxed at all times and allow his charisma to shine through.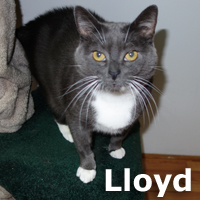 Lloyd
Lovable!
Handsome and playful. Lloyd's (and Taco's) owners have passed and he was immediately comfortable with our temporary facility. Lloyd is very social and interactive. Lloyd has FIV and just needs an indoor home.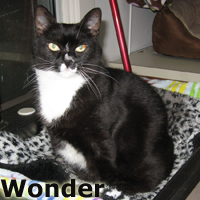 Wonder
Wonder full!
She wants to be loved by you and... only you! Being the one and only in your life and you in hers is very important to Wonder. She craves the attention and love. We know she is wonderful, although we must wonder why she was left in an open top carrier between two parked cars … don't you wonder too?!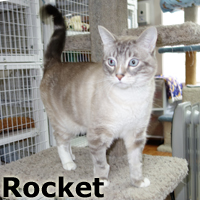 Rocket
Propelled through.
With the accelerants to power through, Rocket did just that. His former owner had him slated to die ... NOT! He is strong, healthy, and ready to exhaust all options to find the perfect home.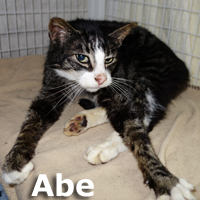 Abraham
Just Abe.
Strong in stature, soft at heart. Long and tall physically, yet a marshmallow inside. Give him food and love, and history will start anew today, with you!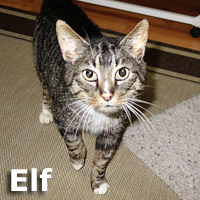 Elf
Better to hear you with!
Mystical skills in survival help to keep yourself and friends safe. No longer a concern for safety, Elf is a joyful friend. Everyone needs a friend ... especially Elf.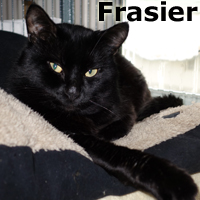 Frasier
Very regal.
Frasier is seeking some solitude with a lot of love and affection. A quiet environment would let him be all he wants to be and show you how special he is.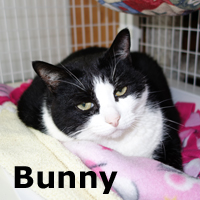 Bunny
Honey of a bunny.
Bunny was obviously an owned cat, not the stray that the Mason County lady claimed her to be. She is so lovable and sweet, it is hard to know how she could be discarded. Bunny will give you a lot of love and affection.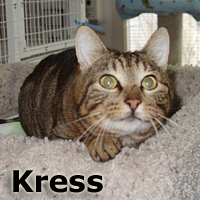 Kress
Intense!
Kress is extremely aware of his surroundings and everything you are doing and, if you need surveillance patrol in your home, Kress is your guy. Intelligent and handsome and ready to move onto a forever home.