Adult Cats Available for Adoption
Below are some of our adult cats available for adoption. This page is updated frequently, so visit often.
If you're interested in adopting an adult cat, please complete our adoption survey and tell us what you're looking for.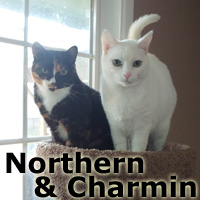 Northern and Charmin
Sweet sisters.
Northern and Charmin are looking for a home where they can blossom in their own time. Northern is the curious one, and will jump in for cuddles when she is comfortable. Charmin is reserved, but will follow her sister when she's ready for lap time too. They also love play time with interactive toys.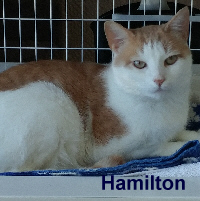 Hamilton
Local Olympian gold medalist.
He knows how to please the crowd. He is happy anyplace, any time, and will be thrilled to finally score a home that can offer him as much as he offers them.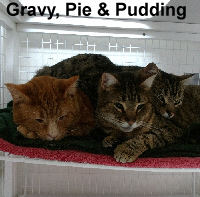 Gravy, Pie, and Pudding
Holiday meal deal.
These three siblings are so bonded and loving of each other, we are hoping for a home that wants an instant family. They sleep in a pile, eat at the same time, and are all in sync together.