A Scary Night, But We're OK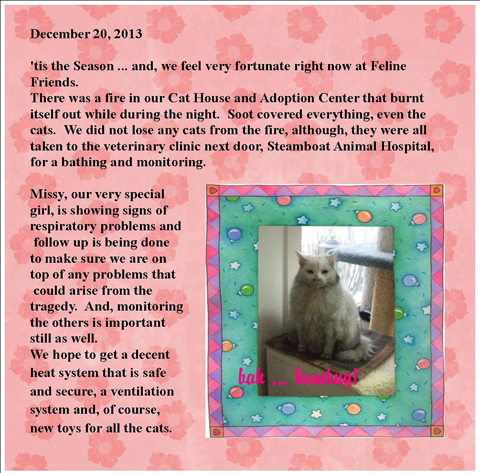 4 Cartoon Animal Rescue T-Shirts and More!

FIVE DOLLARS From every T-Shirt, Tank Top, Sweatshirt, and Hoodie sold goes to help and support:Feline Friends
Click the T-shirt for more details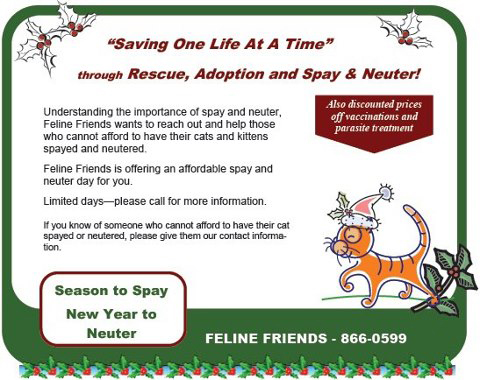 Feline Friends is offering an affordable spay and neuter day for you. If you know of someone who cannot afford to have their cat spayed or neutered, please give them our contact information: 360-866-0599.
News
---
Feline Friends Receives Spay/Neuter Grant Award from the Washington Federation of Animal Care and Control Agencies
Feline Friends received a grant award from The Washington Federation of Animal Care and Control Agencies ("The Federation"), which enabled the completion of 137 spay/neuter surgeries for low-income residents. Feline Friends is pleased to be able to partner with The Federation to provide these vital spay/neuter surgeries and improve the quality of life for animals and their guardians in Thurston, Mason, Pierce, and Grays Harbor Counties.
The funds for this grant award are made possible by the sale of Washington State "We love Our Pets" license plates (
http://www.wafederation.com/node/41
). In an effort to be proactive regarding the pet overpopulation problem, revenue from the sale of these license plates have been earmarked through an agreement with the State of Washington for actual spay/neuter surgeries for dogs and cats in Washington State. Since 2007 the Federation has awarded over $230,000 in license plate grant funds to qualifying animal welfare organizations throughout Washington State. This has enabled the completion of nearly 9,000 spay/neuter surgeries.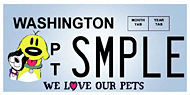 We're Looking for a Home!
---
Feline Friends rescue work is supported entirely through fundraisers and the generosity of our supporters. Through the selfless giving of people like you, we opened the Cat House and Adoption Center (CHAC) in Spring 2005. CHAC serves as our office as well as a comfortable place for people to meet our rescue cats.
We've quickly outgrown our current facility and we're in the same position as the cats we rescue. We need a new home!
If you would like to donate property to
Feline Friends
, please contact us at 360.866.0599 or
email us
. Donating property to a non-profit like
Feline Friends
can provide you with the maximum legal tax benefits allowed by law.
And, if you have not seen CHAC, please stop by during our open adoption hours for a visit. You'll be surprised by the clean, warm, stimulating environment we maintain. We're located at 6515 Sexton Dr, NW in Olympia.