Kittens Available for Adoption
Our kittens are in foster homes to ensure they receive lots of physical and mental stimulation while they're developing.
If you're interested in adopting a kitten, please complete our adoption survey and tell us what you're looking for.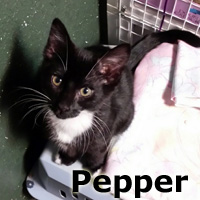 Pepper
Pepper is peppy!
This little girl is adventurous and brave, so kitten-proofing is a must! She is fiercely affectionate and will entertain you for hours with her playful antics. A furry friend is a good idea to help them burn off their kitten energy.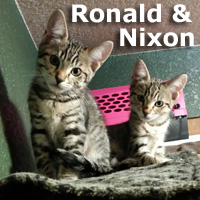 Nixon and Ronald
A goofy little girl.
The only two of the litter, these boys are thick as thieves, but the are not crooks! They play nicely together, and have no problem inviting you into their games. Aren't they handsome!
If you find a kitten on this page you'd like to adopt, please read about
Adopting From Feline Friends
.