Kittens Available for Adoption
Our kittens are in foster homes to ensure they receive lots of physical and mental stimulation while they're developing.
If you're interested in adopting a kitten, please complete our adoption survey and tell us what you're looking for.
Currently there are no kittens available for adoption.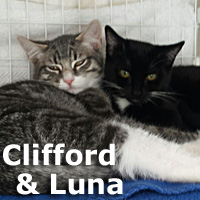 Clifford & Luna
It's a little known fact that...
Cats have more than 100 different vocal sounds. Clifford and Luna have a lot to say and welcome you to join their conversation. Their favorite topics are snacks, toys, and cuddles.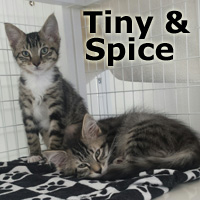 Tiny and Spice
And everything nice.
That's what little kittens are made of! This is the purrfect pair of sweet and snuggle will be sure to lighten your heart and liven up your home. Too cute and two is better than one.
If you find a kitten on this page you'd like to adopt, please read about
Adopting From Feline Friends
.