Angel's Happy Story
May 2008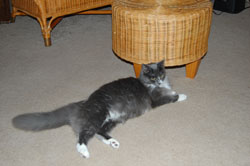 Dear Feline Friends,
We realized today that our baby girl is about a year old! So we wanted to tell you about her first year in the Gaivin Home and thank you all so much for her. We named her Angel and she has lived up to her name. She wakes our boys (CJ 11,Ryan 9. and Ian 5) with love paws and purring until they give in and scratch her ears. She then follows CJ into the kitchen awaiting her breakfast.
Once finished with her morning meal, she will meow until someone opens the kitchen window for her to watch the birds outside on the feeder. After the boys are off to school it's time for me to have my coffee and for her to bring me her favorite toy. She then will play fetch with me for as long as I can spare. Stopping only for loves before running after the toy one more time and then bringing it back again. Her afternoon is spent curled up in Dad's chair sound asleep.
In the evening she can usually be found hiding around the corners of furniture waiting to pounce on the dog! That will be followed up with what can only be described as a game of tag with the two of them running all over the house and furniture! She sleeps in her own room due to the fact that she hasn't mastered the art of sleeping through the night. When you open her door in the morning she will have her toys spread out across the floor.
As spring has sprung she has taken up gardening with me and chasing bugs around the pond. She quickly learned that the swim is not worth catching the koi!
We really can't thank you enough for bringing her into our lives. Angel amazes me everyday. She knows just when you need her to come for love. A simple cuddle session can make all the craziness of the day disapear.
Thank you,
Kimberly , John, CJ, Ryan, Ian Gaivin, and of course Angel, Fancy (Our dog rescue) and Jessie the lazy lab!