Cat House and Adoption Center
The purpose of the Feline Friends Cat House and Adoption Center (CHAC) is to facilitate the adoption of cats and kittens into caring, permanent homes.
We fulfill this purpose by adhering to four fundamental values:
Quality: Ensuring the health and welfare of the cats/kittens by providing a clean, socially stimulating home environment.
Service: Maintaining a comfortable, safe location for prospective families to meet and interact with cats available for adoption.
Dedication: Helping people choose the right cat for their family and making the adoption process a positive experience.
Education: Sharing information about cat related issues to enrich the lives of cats and their guardians.
Contact Us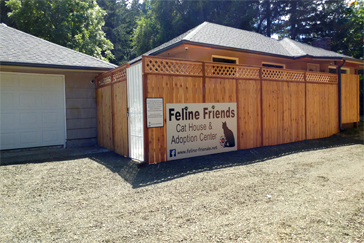 Feline Friends
Cat House and Adoption Center
7115 Old Hwy 101 NW
Olympia, WA 98502
Phone: 360.866.9300