Adult Cats Available for Adoption
Below are some of our adult cats available for adoption. This page is updated frequently, so visit often.
If you're interested in adopting an adult cat, please complete our adoption survey and tell us what you're looking for.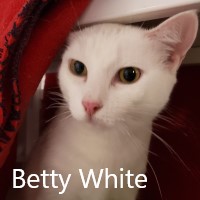 Betty White
Pet overpopulation is not a laughing matter.
Growing up self sufficient and finding the means to care for unwanted kittens was a challenge for Betty. She had a tough time realizing the changes and challenges of going from outdoors to indoors. However, as long as she is in charge, it's all good.