Adult Cats Available for Adoption
Below are some of our adult cats available for adoption. This page is updated frequently, so visit often.
If you're interested in adopting an adult cat, please complete our adoption survey and tell us what you're looking for.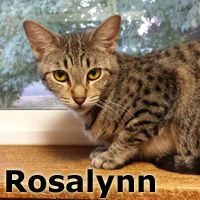 Rosalynn
Her turn to shine.
Motherhood came early to this sweet girl. Now that her kittens have moved on, it's her turn to be a kitten herself. She loves to hunt for toys and is an avid birdwatcher from the sun warmed windowsill.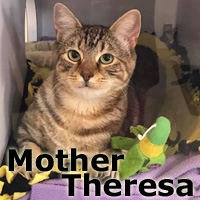 Mother Theresa
Her work has just begun.
With a lot to say and much work to do, she cannot wait for her new home. Let's just hope that the people are ready to give and spread the love. Theresa is ready to rock and roll!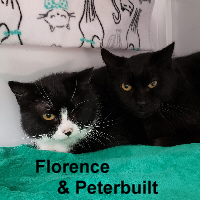 Florence and Peterbuilt
One-eye and built tough.
Florence had trauma from pellets and lost one eye and Peter has taken to her companionship and together they're purrfect. Rescued from a large group out of Rochester, where the home is foreclosed.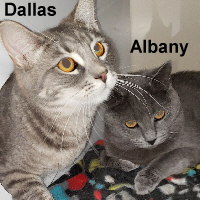 Dallas and Albany
The girls!
Whether they're sisters or cousins, it doesn't matter, they love each other. The last two we got from a rescue, these two bonded. They seem to think togetherness is an important part of healing and happiness. Do you need to double up on your happiness?!