Adult Cats Available for Adoption
Below are some of our adult cats available for adoption. This page is updated frequently, so visit often.
If you're interested in adopting an adult cat, please complete our adoption survey and tell us what you're looking for.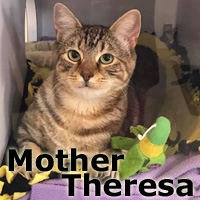 Mother Theresa
Her work has just begun.
With a lot to say and much work to do, she cannot wait for her new home. Let's just hope that the people are ready to give and spread the love. Theresa is ready to rock and roll!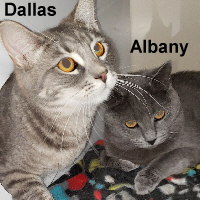 Dallas and Albany
The girls!
Whether they're sisters or cousins, it doesn't matter, they love each other. The last two we got from a rescue, these two bonded. They seem to think togetherness is an important part of healing and happiness. Do you need to double up on your happiness?!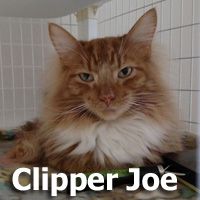 Clipper Joe
A new world.
So many transitions and experiences after being rescued. Clipper enjoys playing in his water dish and enjoys excitement of toys, however, nothing is better than getting meals every day. Still a little shy so you will need a little patience, but he is a darling boy.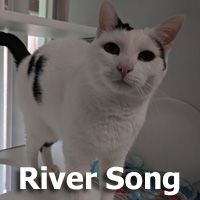 River Song
Serenade me.
She is a very intelligent and sweet girl and is keeping her eyes open to choose the purrfect home. When you are chosen by River Song, consider yourself lucky to be the chosen one and look no further.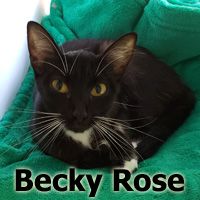 Becky Rose
She is blooming.
This petite little rose is ready to be picked and appreciated. Becky Rose is a delightful dainty darling that is ready to give her heart and melt yours. Stop by and see the beauty.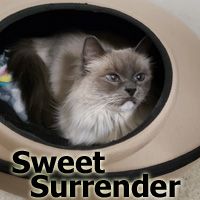 Sweet Surrender
Sweet and spicy.
Beautiful and enchanting, this gorgeous girl is seeking a home of her own with a person to wait on her every whim. She, like many females, has a mind of her own and is seeking a like-minded companion to bond with.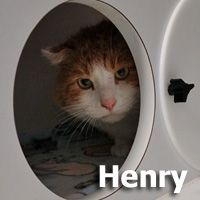 Henry
Nothing like retirement.
Free and easy life-style is what this handsome survivor is looking to score. His days of scrounging and fighting are over and he is very motivated by a full tummy. Henry is adjusting to retirement and life off the streets.