Adult Cats Available for Adoption
Below are some of our adult cats available for adoption. This page is updated frequently, so visit often.
If you're interested in adopting an adult cat, please complete our adoption survey and tell us what you're looking for.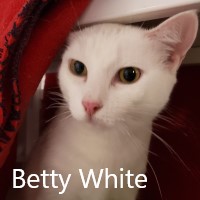 Betty White
Pet overpopulation is not a laughing matter.
Growing up self sufficient and finding the means to care for unwanted kittens was a challenge for Betty. She had a tough time realizing the changes and challenges of going from outdoors to indoors. However, as long as she is in charge, it's all good.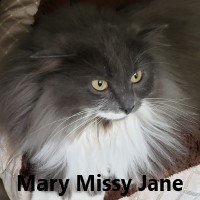 Mary Missy Jane
Look out Hollywood.
This beauty will be turning heads as she walks the red carpet. Looks, charm, and class as long as there is no competition in HER forever home. She would absolutely do well in the home of a beautician. With her flowing locks, she's "high maintenance".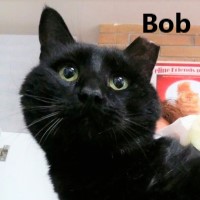 Bob
Admire me.
Whew, that was a wicked trip to the vet …! Already neutered, he underwent 2 procedures playing "operation" and his recovery was tough. While recovering, he figured out that the new accommodations were pretty terrific. He is one "hunk" and his abs don't ripple.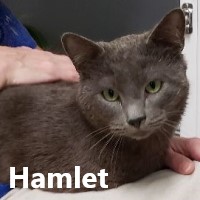 Hamlet
Rise to the occasion.
Hamlet's beginning was a bit challenging for him, yet it only made him the handsome and wonderful guy that he is. His good looks, charm, and youth make him very appealing, and he is ready to step forward and begin his new life.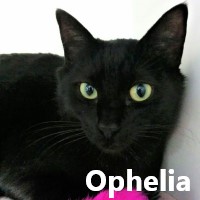 Ophelia
Her time to shine.
A young lady that has raised her kids and sent them off on their own. It is her time to shine and learn that she is still a kitten herself, to have regular meals and plenty of attention. She loves a good belly rub.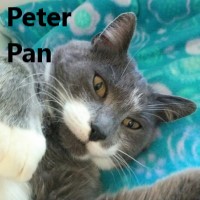 Peter Pan
Magical Character.
Life begins in a big way. Living on the farm was fantastic, however this indoor living can't be beat. The service is great as far as condo life, but we took to indoor life quite fine and indoor plumbing is great in the winter, as long as there is toilet paper.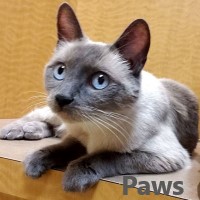 Paws
Pause.
Take time for quiet time, now more than ever. There is nothing more comforting and relaxing than a good book and a cat on your lap. Paws is a senior girl that would do well in a quiet home. She is still full of life with plenty of love to give.