Adult Cats Available for Adoption
Below are some of our adult cats available for adoption. This page is updated frequently, so visit often.
If you're interested in adopting an adult cat, please complete our adoption survey and tell us what you're looking for.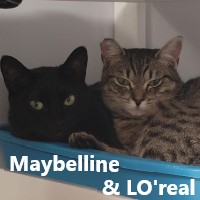 Maybelline and LO'réal
The makeup artists.
Camouflage is a comfortable color on these two. Born in a home of many cats, where spay and neuter was obviously not a priority, these two (at separate times) found their way to a new food source and the quiet place of a kind gentleman. Still learning to fully trust humans, food is a motivator and a slow hand and quiet voice is a comfort.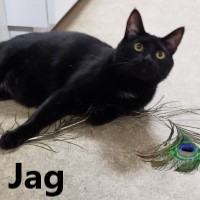 Jag
Just a boy.
Trying to survive during mating season, Jag didn't do so well, but his defensive nature allowed him minimal injuries and he is now enjoying being a teenager. Cute and adorable, he needs a home that is quiet because his days of dealing with unruliness are over.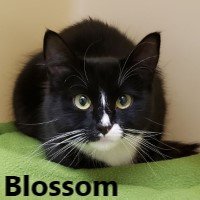 Blossom
This bud blossomed!
I may be called Blossom , but I have a lollipop personality. Hard on the outside and it takes a lot of licks to get to the soft center. It's a protective shell that I put around myself to shield me from my difficult past. I would love to have the comforts of a home that is quiet and understanding, and another cat for companionship would be nice too.
..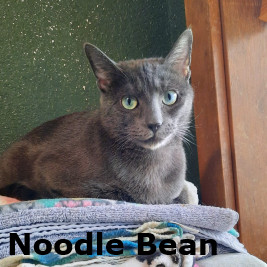 Noodle Bean
A lovely lady who enjoys the simple pleasures in life – a cardboard box, wadded up paper, a full food dish and a warm lap. Noodle Bean will repay your hospitality with hours of love and laughter.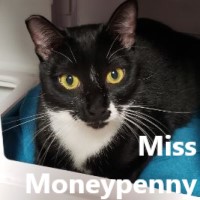 Miss Moneypenny
Dressed in her tux.
Miss Moneypenny is ready to have a Tuna martini with her next James (or Jane) Bond. She won't chase villains but will go after any wand toy and prefers the ball-in-track to the racetrack. Sweet and playful once she feels comfortable. A bit shy at first but does love neck rubs & scratches.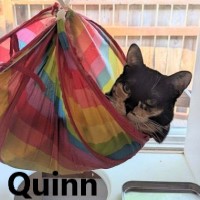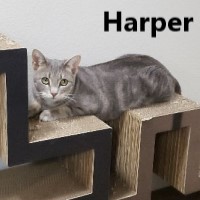 Quinn and Harper
Tumbling and twisting.
These two adorable girls just love to have fun. They're two peas in a pod and monkey see, monkey do. Life is not dull when they're awake and you just need your favorite beverage, and they'll provide your entertainment (they are like watching kids play on the jungle-gym). Come meet Quinn and Harper.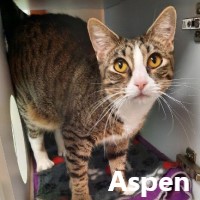 Aspen
Full of life.
Just an adorable girl with a little hesitation until she's sure. She'd love a friend to play with and cuddle up with for comfort. Aspen is sure of her likes and dislikes and she likes to eat, and she prefers kibble to canned food. She's also fine sitting and watching other cats play, and maybe she'd be a companion during your favorite TV show.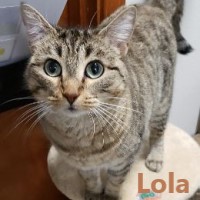 Lola
She's a snuggly one.
Lola had kittens young, then she lost her person that took her in. With little difficulty, Lola has come to love everyone and she especially enjoys being held and fussed over. Loving, playful and loves to drink from the tap.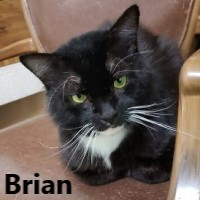 Brian
Sweet and grateful.
"All I need is love and a home." Brian was abandoned in a rural county and scrounging for food until an Angel took this one worry away, only to be presented with another. Multiple abscesses that were bleeding. Apprehensive about his temperament, she guided him into a dog kennel and now he is awaiting the next Angel to enter his life.