Adult Cats Available for Adoption
Below are some of our adult cats available for adoption. This page is updated frequently, so visit often.
If you're interested in adopting an adult cat, please complete our adoption survey and tell us what you're looking for.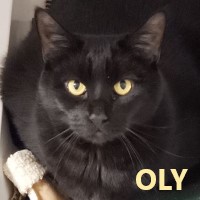 Oly (Aly)
Lovely Lady.
Oly has done well on her extreme weight loss challenge and it is all in the food choices you make. She is an interactive black beauty that has a lot of charm about her. She is without a doubt a standup comic in her spare time.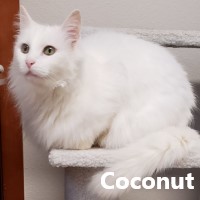 Coconut
Put the lime in the coconut …
This lady has been all stirred up. At no fault of her own, she has ended up in "the rescue system" again. We feel strongly she is safe until the right purrson comes along. Deaf, quiet, and seeking a stable quiet FOREVER home.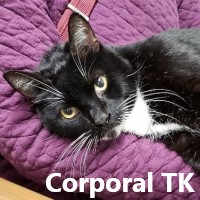 Corporal TK
TK is a gentleman.
Ready to be by your side or curl up and snooze through a movie. TK is a tall, long, and lovable guy with a sweet temperament. He is eager to get beyond this social distancing, face masks, and invade your personal space.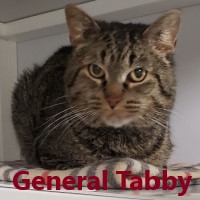 General Tabby
This kindly gentleman has such an old soul.
He is quiet but truly enjoys the attention you give him. General is seeking a quiet and calm home with recliner to rest in.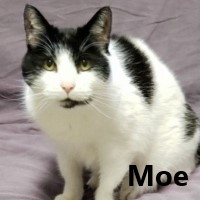 Moe
Sweet senior.
Moe has found his favorite spots and he isn't sharing. A lap to lay in, a heated bed, sunshine or the back of the couch. He has spunk and knows how to use it, and he isn't going to be ignored. He is sweet and loving and ready to curl up in your lap.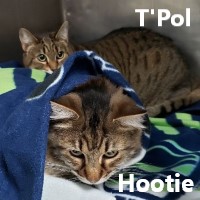 Hootie and T'pol
We want to belong and be loved.
Hootie (brother) and T'Pol (sister) are so perfect for any cat lover that is on the go or retired. They are flexible. They're ready to be your family and both will be fighting for your love, affection, and your lap. Bring a ray of sunshine into your home, adopt!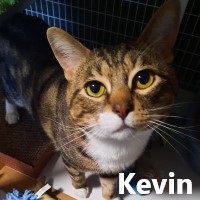 Kevin
Not Kevin!
Sweet, outgoing and ready to soak up some love. He kneads you. Kevin is an extrovert and wants to be with you, be touched and carry-on conversations. Do you want that cat that is anything but aloof? Come meet this handsome dude.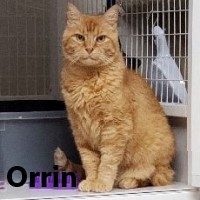 Orrin
Seeks solitude and security.
Orrin's former purrson passed and he managed to have a few people checking in on him until he could be convinced his safety was at risk and he needed a safer warm spot. Orrin loves to be groomed and would do well in a quiet home with a patient person.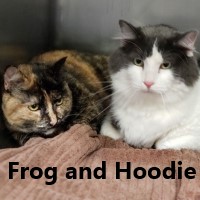 Lieutenant Dan Hoodie and Agent Jenny Frog
Sleep by day, prowl by night.
This brother and sister duo are dynamic and look like an odd couple. The big and short of it, Hoodie is going to crawl in your lap and Frog will lie and wait for your hand to extend. Looking to be forever together, these beautiful cats may not match your color scheme, but they will add cat passion to your life.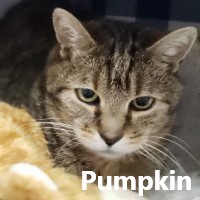 Pumpkin
Aged to purrfection!
While Pumpkin is an elderly gentleman, he is special, kind and attentive. Being front paw declawed, he is hesitant around other cats. He avoids confrontation and is, as you would expect, a sedentary guy.