Adult Cats Available for Adoption
Below are some of our adult cats available for adoption. This page is updated frequently, so visit often.
If you're interested in adopting an adult cat, please complete our adoption survey and tell us what you're looking for.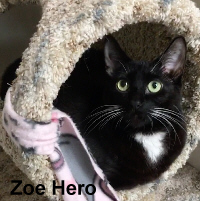 Zoe
Be her hero.
Shy, yet sweet. Zoe needs a quiet home where she will be allowed to bloom at her own pace and receive the love that she desperately wants.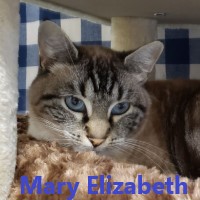 Mary Elizabeth
Tired of pretending to peddle Avon.
After being on the street for at least 3 years after her owners moved, this special and gorgeous girl was grateful to be whisked off the street and into the vet to have an abscess taken care of and a warm spot to rest her weary paws. Mary is just a joy.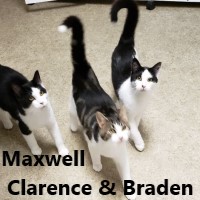 Maxwell, Clarence, and Braden
Triple delight.
Triple the pleasure, triple your fun, these adorable brothers are ready to run. They have outstanding and amazing personalities and really are happy boys and the world is their playground and they are one another's sleeping buddies. Add a little magic to your home this winter.