Adult Cats Available for Adoption
Below are some of our adult cats available for adoption. This page is updated frequently, so visit often.
If you're interested in adopting an adult cat, please complete our adoption survey and tell us what you're looking for.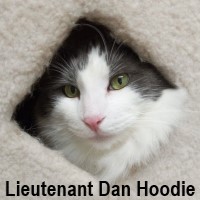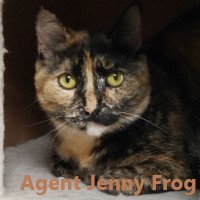 Lieutenant Dan Hoodie and Agent Jenny Frog
Sleep by day, prowl by night.
This brother and sister duo are dynamic and look like an odd couple. The big and short of it, Hoodie is going to crawl in your lap and Frog will lie and wait for your hand to extend. Looking to be forever together, these beautiful cats may not match your color scheme, but they will add cat passion to your life.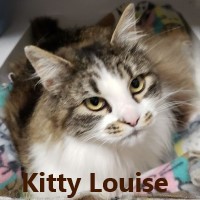 Kitty Louise
Kitty Lou
A beautiful and sweet girl is doing well after years living with little care and sparse meals. Always glad for her meals and a good brushing. Settling into indoor life without the worry of living on the busy Olympia Westside with a busy street and cars seemingly everywhere. The kind gentleman that did his best to provide for her moved due to deteriorating health concerns.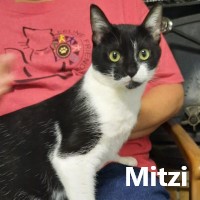 Mitzi
Unruly child!
Mitzi came in with issues from "single cat syndrome" and with a lot of love and patience with the staff, she is loving the interactions of the other cats and is wanting our attention. Beautiful and playful, spirited and shy.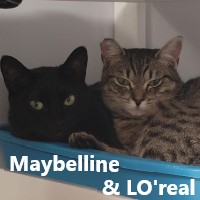 Maybelline and LO'réal
The makeup artists.
Camouflage is a comfortable color on these two. Born in a home of many cats, where spay and neuter was obviously not a priority, these two (at separate times) found their way to a new food source and the quiet place of a kind gentleman. Still learning to fully trust humans, food is a motivator and a slow hand and quiet voice is a comfort.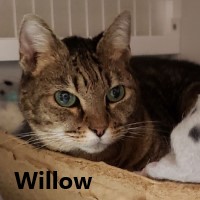 Willow
Lost soul.
With the loss of her human mom and her former cat family, Willow is comforted by the staff and she is always happy to have meals delivered, her bed fluffed and a special treat. Willow is a small lady with a soft purr and a big heart.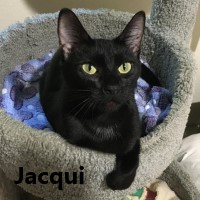 Jacqui
Pretty and sweet with great big feet.
An extrovert with a lot of personality and love to share. Jacqui will bring life to your home, warmth to your heart and a smile on your face. She is very active and now that her kittens are raised, she is enjoying being a kitten herself.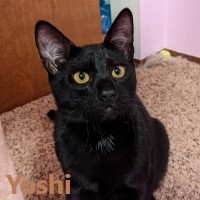 Yoshi
Crazy fun energy
He loves to run around and chase toys like a dog and go exploring around the house. He would love a home with a furry friend to pal around with. Shy and sweet.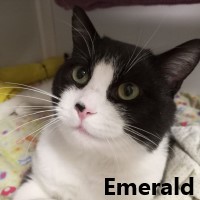 Emerald
Making up for lost time.
This gemstone was found nestled in a unique and desirable location in Mason County. Emerald has some rough edges that are being smoothed over with the decrease in testosterone and the understanding he is deserving of the love and nurturing that has lacked in the first year.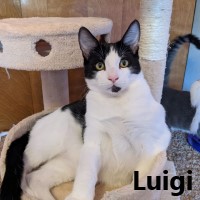 Luigi
Super active boy.
He is inquisitive and always wants to help with whatever you are doing. He will need a kitty play buddy to help him burn off all of his kitten energy.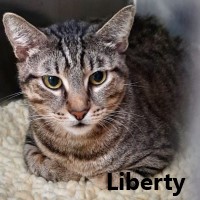 Liberty
Mother of the year.
This leading lady has been the picture of love and patience with her brood of seven little ones. She is an easy-going girl who is looking forward to life beyond motherhood, and she wouldn't mind a forever home with one of her lovely kittens to curl up with.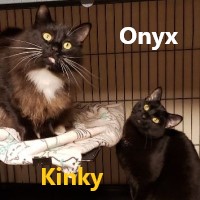 Onyx and Kinky
Brother and sister.
These two are adult, yet young and still very bonded to one another. Their luggage packed and they travel light, and there are very sweet and loving and will bring a lot of joy to your hearts. They will add a comfort to your home and the pitter-patter of tiny feet.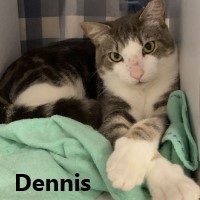 Dennis
Twinkle in his eye.
This very handsome young man knows how to get what he wants. He has a special sparkle of the eyes and a cute little trill that is hard to resist. He is shy and would do well with an experienced cat purrson in a quiet environment.