Adult Cats Available for Adoption
Below are some of our adult cats available for adoption. This page is updated frequently, so visit often.
If you're interested in adopting an adult cat, please complete our adoption survey and tell us what you're looking for.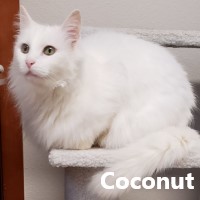 Coconut
Put the lime in the coconut …
This lady has been all stirred up. At no fault of her own, she has ended up in "the rescue system" again. We feel strongly she is safe until the right purrson comes along. Deaf, quiet, and seeking a stable quiet FOREVER home.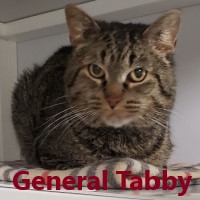 General Tabby
This kindly gentleman has such an old soul.
He is quiet but truly enjoys the attention you give him. General is seeking a quiet and calm home with recliner to rest in.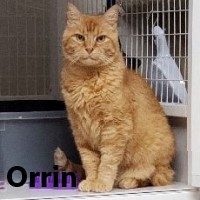 Orrin
Seeks solitude and security.
Orrin's former purrson passed and he managed to have a few people checking in on him until he could be convinced his safety was at risk and he needed a safer warm spot. Orrin loves to be groomed and would do well in a quiet home with a patient person.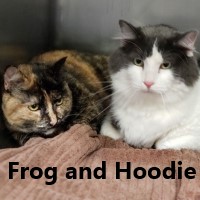 Lieutenant Dan Hoodie and Agent Jenny Frog
Sleep by day, prowl by night.
This brother and sister duo are dynamic and look like an odd couple. The big and short of it, Hoodie is going to crawl in your lap and Frog will lie and wait for your hand to extend. Looking to be forever together, these beautiful cats may not match your color scheme, but they will add cat passion to your life.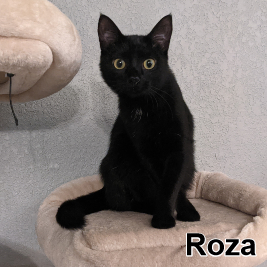 Roza
Looking for puppy love. Roza has become quite smitten with the dog in her foster home and it's quite cute. Do you have a cat loving canine looking for a feline companion?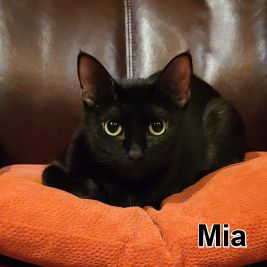 Mia
Motherhood was quite the adventure for Mia being pregnant and abandoned in a wire kennel. Luckily she was not in it for long before getting to a safe place to raise her kittens with the comforts of home. She is ready to be the center of your attention and follow you all around the house.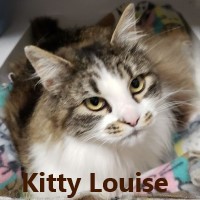 Kitty Louise
Kitty Lou
A beautiful and sweet girl is doing well after years living with little care and sparse meals. Always glad for her meals and a good brushing. Settling into indoor life without the worry of living on the busy Olympia Westside with a busy street and cars seemingly everywhere. The kind gentleman that did his best to provide for her moved due to deteriorating health concerns.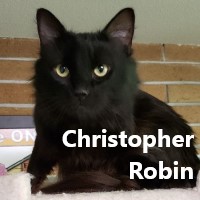 Christopher Robin
Pooh's corner.
Always on the lookout for a special friend with a waiting meal, he would emerge from the forest to watch and wait at the times that became familiar to him, and a Angel would place a nicely prepared meal just how he liked it. His family obviously loved him and yet were unable to take him. Christopher is very sweet and loving and will soak up all your attention.