Adult Cats Available for Adoption
Below are some of our adult cats available for adoption. This page is updated frequently, so visit often.
If you're interested in adopting an adult cat, please complete our adoption survey and tell us what you're looking for.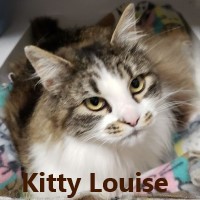 Kitty Louise
Kitty Lou
A beautiful and sweet girl is doing well after years living with little care and sparse meals. Always glad for her meals and a good brushing. Settling into indoor life without the worry of living on the busy Olympia Westside with a busy street and cars seemingly everywhere. The kind gentleman that did his best to provide for her moved due to deteriorating health concerns.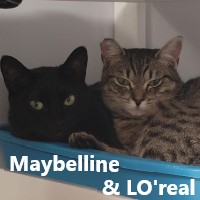 Maybelline and LO'réal
The makeup artists.
Camouflage is a comfortable color on these two. Born in a home of many cats, where spay and neuter was obviously not a priority, these two (at separate times) found their way to a new food source and the quiet place of a kind gentleman. Still learning to fully trust humans, food is a motivator and a slow hand and quiet voice is a comfort.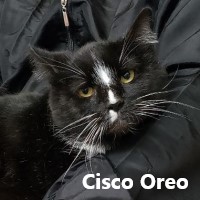 Cisco Oreo
No longer hopeless and hurt.
When there's a will, there is a way. Cisco Oreo was able to survive on his own with little notice to all the people that passed him by. He is grateful to be indoors, dry, warm with a full belly. He is still sensitive to his surroundings and happy when approached with a slow hand and a gentle touch.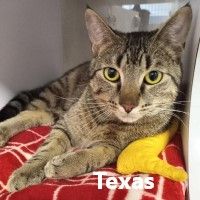 Texas
God Bless Texas!
Rescued from a local casino with a few of his siblings, he was going to go back to be a mascot, yet with the winter snow and low temperatures, we kept him. He is doing well adapting to inside life, responding to human tenderness, and loving meal times. Love, time, and patience, and you will have an incredible boy. He really wants a cat companion.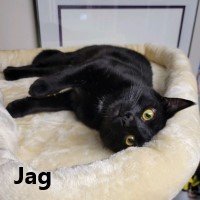 Jag
Just a boy.
Trying to survive during mating season, Jag didn't do so well, but his defensive nature allowed him minimal injuries and he is now enjoying being a teenager. Cute and adorable, he needs a home that is quiet because his days of dealing with unruliness are over.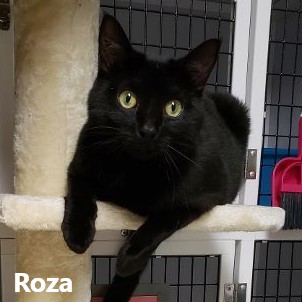 Roza
Playground supervisor.
Always watching and wanting to be part of the fun. Still shy around people but knows how to let other cats know that she is in charge and that she will make the rules. Rosa needs a cat companion to help her feel secure.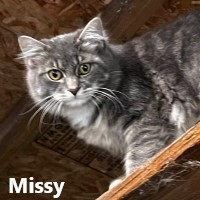 Missy
Got lap?
Missy is a very social, active, loving little kitten. She adores attention and will chirp at you until you give her pets. She doesn't like to be picked up but if you sit down, she'll crawl up on your lap and settle in. She loves exploring and you will often find her napping in high places. Missy and Mittens would be a purrfect pair.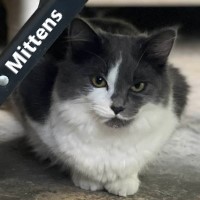 Mittens
Learning to trust people.
Mittens is shy with people but adores other cats. She'd love to be adopted with one of her siblings or go to a home with another friendly cat that she can snuggle with. She loves to play with toys, and after she's used to you, she'll hang out nearby, but at least for now, she has no interest in being a lap cat. Mittens and Missy would be a purrfect pair.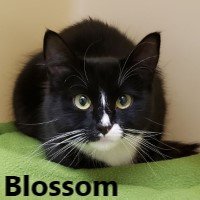 Blossom
This bud blossomed!
I may be called Blossom , but I have a lollipop personality. Hard on the outside and it takes a lot of licks to get to the soft center. It's a protective shell that I put around myself to shield me from my difficult past. I would love to have the comforts of a home that is quiet and understanding, and another cat for companionship would be nice too.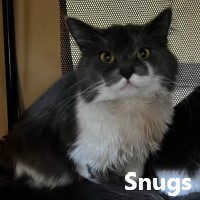 Snugs
What's up doc?!
Snugs enjoys climbing in to be close and snuggle with the bunny in his foster home. This is such a great experience for a cat that is a little shy to know that if you find a furry companion about your size, consider them your friend. Snugs isn't quite as sure about the canine breed yet.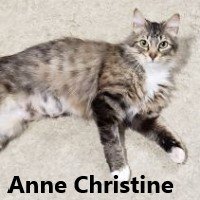 Anne Christine
Fluff and stuff.
She is more than a beautiful girl. Anne is sweet, loving, and a lot of action. She is living the dream and happy to not worry about being constantly pregnant. Anne wants to be part of the in-crowd and will be quite the entertainer.