Adult Cats Available for Adoption
Below are some of our adult cats available for adoption. This page is updated frequently, so visit often.
If you're interested in adopting an adult cat, please complete our adoption survey and tell us what you're looking for.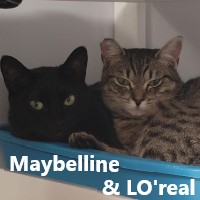 Maybelline and LO'réal
The makeup artists.
Camouflage is a comfortable color on these two. Born in a home of many cats, where spay and neuter was obviously not a priority, these two (at separate times) found their way to a new food source and the quiet place of a kind gentleman. Still learning to fully trust humans, food is a motivator and a slow hand and quiet voice is a comfort.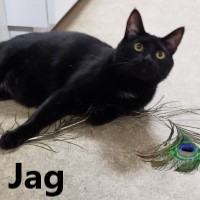 Jag
Just a boy.
Trying to survive during mating season, Jag didn't do so well, but his defensive nature allowed him minimal injuries and he is now enjoying being a teenager. Cute and adorable, he needs a home that is quiet because his days of dealing with unruliness are over.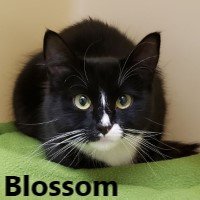 Blossom
This bud blossomed!
I may be called Blossom , but I have a lollipop personality. Hard on the outside and it takes a lot of licks to get to the soft center. It's a protective shell that I put around myself to shield me from my difficult past. I would love to have the comforts of a home that is quiet and understanding, and another cat for companionship would be nice too.
..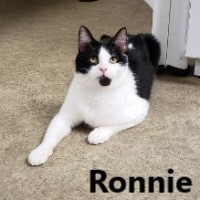 Ronnie Lewis
Super sweet.
The strength and resilience shine through in the very kind and sweet boy that was scooped up off the balcony of an apartment. He was huddled in a box filled with blankets and the sound of humans brought him up and out. Eager for all the love and attention he can get, and happy to explore, play and eat.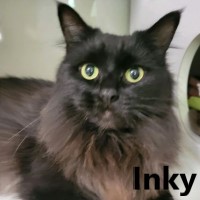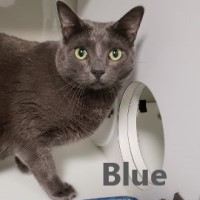 Blue Ink!
We depend on the comfort of each other and are looking for someone who gets that. Coming out of a home of a large number of cats, these two clearly are bonded. Blue is initially shyer and both of them really love to receive their people time when it is quieter in the home.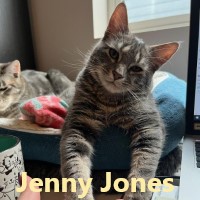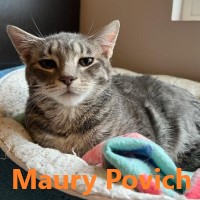 Jenny Jones and Maury Povich
Too cute and too funny
This precious pair, brother and sister, are so adorable with beautiful silvery grey tabby coats and short stubby tails. They're a little older at about 5 months and so playful, social and loving. Add a delightful duo to your home.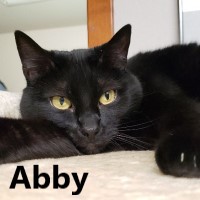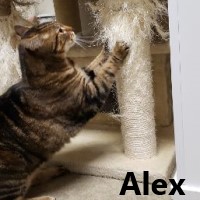 Abby and Alex.
Exceptional Pair.
At no fault of their own, Abby and Alex landed in a soft spot. These two are ready to find a new lap, bed buddy and a window wonderland and a worthy purrson to welcome them into their heart and home. Both are ready for their forever home.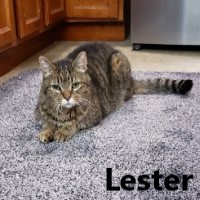 Lester
Assisted living supervisor.
Quite the spry gentleman. He may be older; however, you might not be aware when you see him move about the room. He eagerly awaits his meal time and enjoys getting time being loved and fussed over. Meet this fine gentleman and see if he's a good match.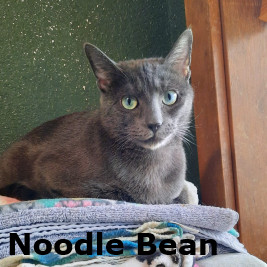 Noodle Bean
A lovely lady who enjoys the simple pleasures in life – a cardboard box, wadded up paper, a full food dish and a warm lap. Noodle Bean will repay your hospitality with hours of love and laughter.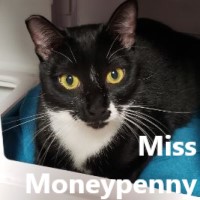 Miss Moneypenny
Dressed in her tux.
Miss Moneypenny is ready to have a Tuna martini with her next James (or Jane) Bond. She won't chase villains but will go after any wand toy and prefers the ball-in-track to the racetrack. Sweet and playful once she feels comfortable. A bit shy at first but does love neck rubs & scratches.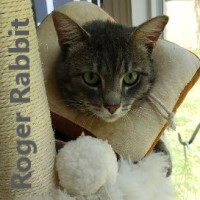 Roger Rabbit
Amazing personality.
This is an easygoing gentleman with an honor surrounding him. He is good natured, easy to please, nonaggressive and quite handsome. Roger would enjoy the companionship of another feline, large windows, regular meals, and plenty of attention.