Kittens Available for Adoption
Our kittens are in foster homes to ensure they receive lots of physical and mental stimulation while they're developing.
If you're interested in adopting a kitten, please complete our adoption survey and tell us what you're looking for.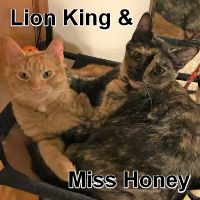 Lion King and Little Miss Honey
Could a pair be any cuter? These two would find that hard to believe. Snuggle buddies to the core. They do love each other, but there is plenty of room for you too. A quiet loving home that will be theirs forever is their holiday wish.
If you find a kitten on this page you'd like to adopt, please read about
Adopting From Feline Friends
.