Kittens Available for Adoption
Our kittens are in foster homes to ensure they receive lots of physical and mental stimulation while they're developing.
If you're interested in adopting a kitten, please complete our adoption survey and tell us what you're looking for.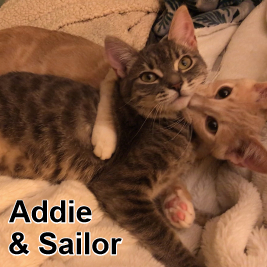 Sailor and Addie
Adoring adorable.
These were thick as thieves almost as soon as they met. It is hard to tell who loves who more, but don't worry because there is plenty left for you. Addie is the go getter while Sailor hangs back and lets her do all of the negotiating.
If you find a kitten on this page you'd like to adopt, please read about
Adopting From Feline Friends
.