Kittens Available for Adoption
Our kittens are in foster homes to ensure they receive lots of physical and mental stimulation while they're developing.
If you're interested in adopting a kitten, please complete our adoption survey and tell us what you're looking for.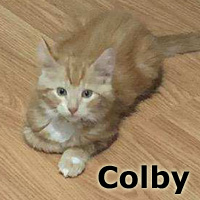 Colby
Say cheese.
Sitting pretty waiting for the purrfect home. One that will understand him and give him time to shine. Nothing cheesy about this one.
Amber
Fluff and stuff.
Amber is a nice girl in a posh furry coat. If you take it slow, you are sure to win her over and she'll let you spoil her rotten.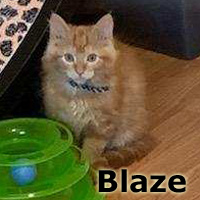 Blaze
He's hot.
Ready to rumble and tumble with all the toys that you can provide. He is sure to endear you to his kitten charm once he thinks you're the bees knees.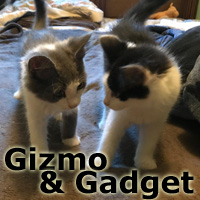 Gizmo and Gadget
Puzzle solvers.
Double the snuggle and double the fun. This pair of fluffy sisters are ready to put it all together and make your life complete.
If you find a kitten on this page you'd like to adopt, please read about
Adopting From Feline Friends
.