Rescuing Bernie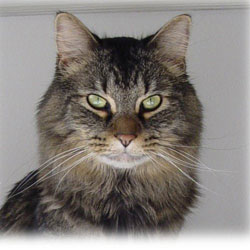 We are empty nesters now and the last of the animals belonging to the childhood of our children died this fall. For the first time in thirty years, we were furless. Something I didn't know about myself until our Cocker Spaniel died was that I need fur. I couldn't sit still and read like I used to when children and dogs cuddled with me, and I felt unexplainably lonely and empty. Then I realized my need to have a pet to accompany me through my day.
The Internet brought me to Jo and the Feline Friends Rescue Group. Even though I had my heart set on rescuing a Ragdoll, I was taken with Travis, a Maine Coon Cat being featured at the time. When Jo wrote me of his adoption my search for a Ragdoll resumed, but she and I kept in contact. Jo notified me weeks later that another Maine Coon Cat, Bernie, needed a forever home. I could sense the excitement in her email. "This kitty has just the personality you've been describing. He is a special boy." Jo's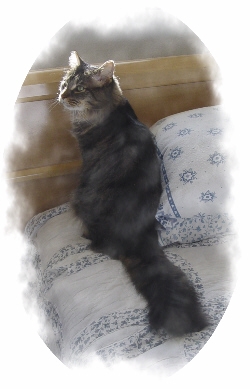 encouragement propelled me forward, and we made plans for the three of us to meet. On the day I met Bernie and Jo, I had also scheduled an appointment to see a Ragdoll cat north of the Steamboat Veterinary Hospital.
My two-hour trip to Steamboat Island only increased my excitement about possibly rescuing Bernie. Finally I met Jo and I could sense immediately she is an especially wise and caring woman. When she let Bernie out of his carrier, he jumped onto the futon next to me. As Jo and I were talking, Bernie inched his tushy backward, touching my leg, just as my Cocker Spaniel Tillie always did. She just had to touch, connect. Now Bernie displayed the same need. He won my heart in that moment.
BUT I still had that Ragdoll on my brain. Jo sensed it, I could tell. To make a long story short, I took my Bernie home; happy, excited, but not elated, yet.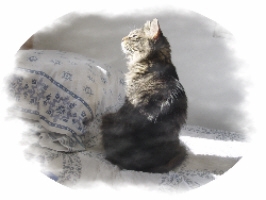 Our homecoming was quiet, memorable and sweet. That night I slept a peaceful sleep for the first time since Tillie died. Bernie's affectionate purring near my head comforted me. If I could purr, I would have. I called Jo the next day to tell her how completely happy I was, and grateful to her for knowing better than I did myself how ideal for me Bernie is. I was so caught up in the outer package of the Ragdoll, I almost lost the pet that was meant for me.
Bernie cuddles on my lap as I write this. His presence in my life brings warmth (literally!) and fulfills the need I have to nurture. I love his kitty kisses and whisker-whisps across my cheek as I sleep. He crawls beneath the covers to settle in for the night and I feel connected with life again.
Wait a minute. Who exactly got rescued here?