Etta and Tony's Happy Story
Dec. 2008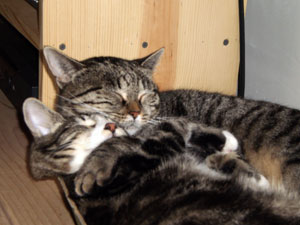 Dear Feline Friends:
We adopted one kitten and one adult cat from you this summer. Etta (fka Miss Mitts) adopted on June 14, 2008 and Tony (fka Justin) adopted on June 21, 2008. We had recently had to put our ten year old cat "Chuck" to sleep, June 2nd to be exact. Our house was so lonely without him. Neither one of us was sure if we were ready to adopt so soon. It's such a sad and lonely time. We needed something to love and we decided why wait. Once we had made up our minds we found Feline Friends on the internet. We adopted Etta first and she settled in pretty quickly. She didn't purr too much but seemed to really bond with Rich. One week later we adopted Tony. He was approximately ten weeks old. He was so adorable and full of energy. Etta took him in like he was her own baby. That was so awesome to watch.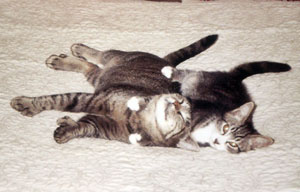 On July 16th we took Tony to the vet for his booster shot. I had thought something felt funny under his belly. I asked the vet about it and sure enough he had a hernia. He had to go in for surgery the following day. He was just fine and bounced right back. Etta was so happy to see him she licked him from head to toe. On August 8th we took both kitties in for a check up and their rabies' shots. Etta had gained three pounds weighing in at 10.7 pounds and Tony weighed in at 5.9 pounds. They are very happy and healthy. Etta purrs on a regular basis now and is becoming quite the lap kitty too. I'm pretty sure she smiles too. Tony is already weighing in at around 12 pounds. He looks like he will be pretty big. He's so goofy and laid back.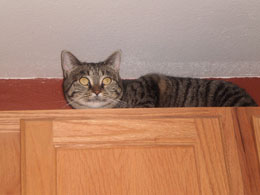 We are attaching a few pictures of Etta and Tony. One is from July; Tony with his arms around Etta on the bed (that picture could win a prize!) and a more recent picture, they're in the lid of a paper box (their most favorite place to sleep!) The other two pictures were taken on Christmas day; Etta above the kitchen cabinets (she loves to sleep up there!) and Tony spread out on the back of the couch (that is so typical of Tony!)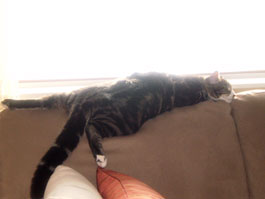 We want to thank you for all the hard work you do at Feline Friends. It is very much appreciated.
Rich and Michaela