Gus and Star Dust's Happy Story
July 2010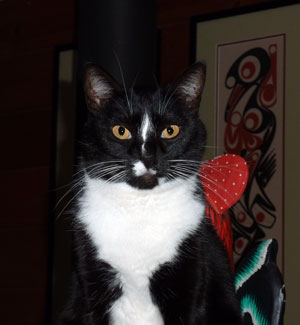 When I got Stardust in December 2007 she was just under a year old. She was very shy and bit a lot. Now she isn't very shy and loves people. She loves to sit on the windowsill and watch birds. Sometimes she will make a little chirping sound. Stardust used to be afraid of my dog Saluda and now loves to sleep next to her in the afternoon. In the morning I wake up and I find her asleep on the foot of my bed. She is a kind and loving cat. Her playmate's name is Gus.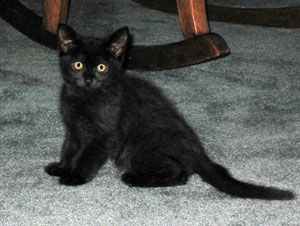 Gus is only 10 months old. I got him September 9, 2009, and he was 8 weeks old. His eyes are always as big as saucers and he is so sweet. When we got him his fur was standing straight up like he had static electricity. Gus is a very busy cat. At night he zooms around the house like a rocket. Gus loves attention and hates it when we go on trips. Gus and my dog Saluda almost immediately became friends. Sometimes when Gus gets overwhelmed and wants a ride he will grab onto Saluda's bushy tail and have her drag him into the living room. Saluda loves Gus and doesn't mind it. Sometimes Gus rolls on his back with his toy catnip donkey and wrestles it.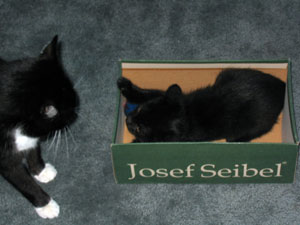 Both cats love their cat scratching posts and they love boxes. One time my mom brought home a box and put it on the floor for Gus. He got inside and turned it over and no one could find him!
We love our cats. Thanks Feline Friends!