Luna and Calyso's Happy Story
June 2008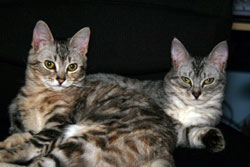 Pretty Girls: Calypso on left
& Luna on right
We adopted sisters Luna (silver tabby) and Calypso in September 2007 as young kittens from Feline Friends. We were very impressed with their unique facility and the spacious, immaculate living quarters for each cat.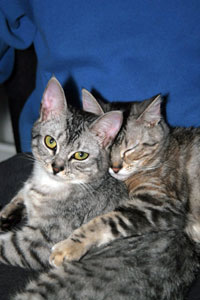 Sisters: They love each other.
Our kittens and their mother, Abigail, were rescued from an abandoned trailer and lived for several months with their foster mother, Jennifer (who kept Abigail). She gave them the TLC and good quality food needed to regain their health. Jennifer also did a wonderful job of socializing them -- they're very affectionate and people-focused kitties. We've had such fun watching them play and grow. Their favorite toy is a small soft fuzzy "sparkle" ball,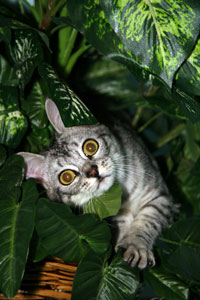 Luna loves playing in the silk
plant "jungle"!
which they will fetch and bring back to us after we throw it! They often "lose" these balls as a sort of Hide & Seek game and get really excited when we start looking under tables and chairs for them. Calypso is a very acrobatic jumper. Both cats have adapted quite well to going out on our 32 ft boat with us, calmly exploring everywhere inside the cabin. They turn one on July 4th. We love them dearly!
~ Ed and Sandy G., Renton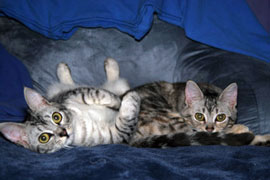 Luna (left) striking a pose with her sister