Malcolm's Happy Story
Jan. 2009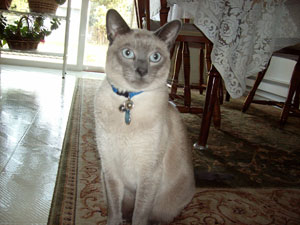 M A L C O L M
("IT'S ALL ABOUT ME")
After outliving the 2 dogs that she had trained to obey her every command, our beloved Miss C (C is for Cat, obviously) succumbed to kidney disease shortly before her 18th birthday. Our hearts were broken. Our children were grown and living out of state. Noel, the Cockatiel, age 14, was the only "baby" left at home. What to do? The only answer was to seek out a furry someone who needed us as much as we needed him.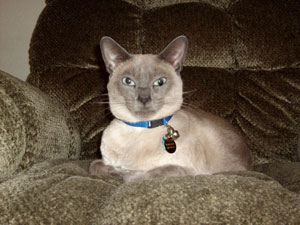 Our prayers were answered as we discovered Feline Friends. While any one of the many kitties there would have fulfilled our needs, there was One who decided that we were sent to be His People. Malcolm was still recovering from major surgery to repair life-threatening injuries when he chose us. There was no question that we were meant to be together.
When Malcolm arrived at his new home he began an investigative tour that was repeated frequently until he felt confident and secure and established his own special places. At first, Malcolm required several small feedings each day, as he would gulp down every morsel as rapidly as possible. As he came to understand that no one was going to take the food away from him, he began to pace his feedings and he developed appropriate habits and manners. As time went on Malcolm's purrsonality developed by leaps and bounds.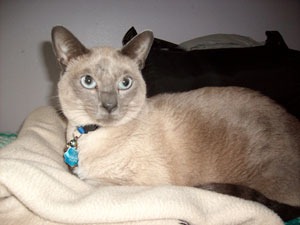 Anyone with an empty lap soon learns that no outfit is complete without cat hair. If you don't pat him when he wants you to, he will pat you until you respond appropriately. Even his "Lady Vet" Laela said a cat had never before patted her! Malcolm loves to have conversations and will talk as long as we keep up our end. His toy mousies get a lot of attention and ribbons are utterly fascinating. (Cockatiels are not food. Cockatiels are not toys. Cockatiels bite!) What could be greater than Malcolm flying through the house – rather like a puppy - to greet us as we come into the house???
All in all, Malcolm's wants and needs are few and simple. Love him and treat him with the respect and dignity he deserves, and he gives more, far more, than he receives.
Thank you, Feline Friends, for bringing us together!