Moxie's Happy Story
April 2008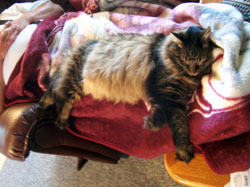 Dear Jo,
You have been on my mind for a long while. Roger and I love our Moxie!!!! She is such a good girl. She and her father have a very special relationship. He drives to Oly to buy her special treats that you gave us, wood pellets for kitty litter (the best for our girl). Wood pellets are better than stepping on little pieces of kitty litter. No odor to deal with ever!!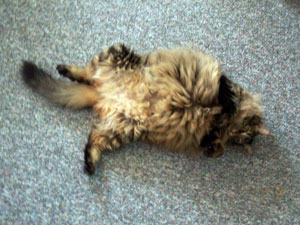 She sleeps with us. She sleeps "on" us and she runs the family (as it should be). She stands guard at the window and is a people watcher. Roger (Dad) bought her a halter and leash, collar with "diamonds" on it and a heart shape tag with her name and phone number, just in case..... She wants to go out side to follow him around but does not like wearing the halter. Sorry Moxie, but you can not be the boss of us all the time. If you want to go outside, then wear the halter. No room for discussion.
She gives her Dad a massage every day, sitting next to him (in my spot) and will knead up a storm giving a massage. She follows him everywhere, even to the bathroom. She will wake us up at 5 am just before the alarm goes off. She loves to lie in my hard wood chair and hang off the edge. (What is that all about??) And she will do the "Garfield thing, "hanging" off the antique table with special quilts and carpets to lie on and sun herself.
I can not thank you enough for the work you do and bringing her into our lives. When we are not feeling well, she is right there to snuggle us and talk to us. And we have never observed a cat behaving like a dog. She will run to the door when someone knocks. If the phone rings, she runs to the phone....But if it is bedtime, she will come to bed only when she is ready. The saying "Dogs come when you call them, cats come when they want to" is TRUE!!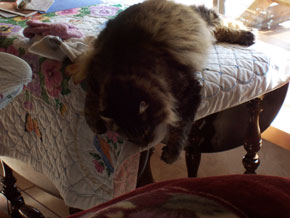 There is no amount of money or words to say "THANK YOU" for getting "US" together!! If we can ever do anything for Feline Friends in the future, please call upon us. I tell everyone about you and your work. You all are very special people!!!
The top picture is Dad sleeping with his feet on the coffee table and Moxie is catching up on her 23 hours of beauty sleep. The next is her "hussy pose". Is there no shame or respect around here? And the last one is the "Garfield pose". What a character she is. I hope you enjoy these pictures half as much as we do. Thank you again. You are some very special people.....
With love and hugs,
Moxie, Roger and Bobbie