About Walter, Now Known as Prince
June 2008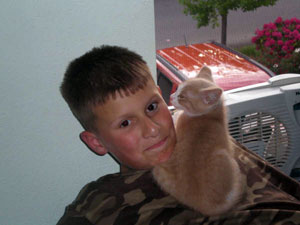 We lost Stich the begining of May. He was a member of our family. We had Stich for 4 years before he became ill. We got him as a kitten, and loved his personality. We mourned, like anyone who lost a family member. We told ourselves that it would take a very unique cat to capture our hearts.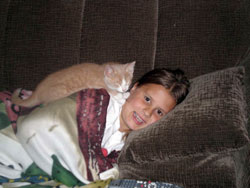 A friend told us to help the kids and us, we needed to visit the Humane Society or a Cat Rescue. Not to find another cat right away but to help with the healing process. We went to Feline Friends just to look around. They didn't have any kittens at that time but told us to check back.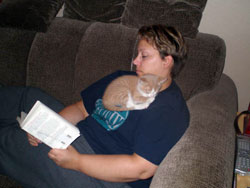 I was looking on the web site when I saw "Walter". His description fit what we loved about Stich. My wife lost her dad last year, his name was Walter. I told my wife to check out the web site. She called me a bit later at work and told me to hurry down to Feline Friends. By the time I got there she was filling out the paper work. The kids were excited and so was my wife.
We went straight to the pet store. As we were walking through the store, "Walter" sat on my shoulder almost the entire time. I told my wife he thinks he is a king.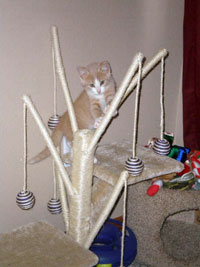 She thought for a moment and said no a prince. So we decided to call "Walter" "Prince".
We got Prince home and like any new kitten he was scared. That lasted for about 20 minutes. In no time at all he was all over the place playing with the kids and having a good time. As he began to get tired he started looking for a place to take a cat nap. He ended up on my wife's lap.
Prince is a great addition to our family. The kids say that Grandpa and Stich got together in Heaven and brought us Prince. He is fun and wild, and at the same time likes to cuddle. He is a perfect fit for us at the perfect time!
Thank you Feline Friends
The Birth Family