Zuzu's Happy Story

April 2011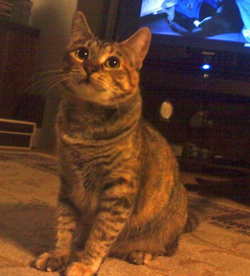 It was my life-long affinity for the feline world that first brought me to Feline Friends. I had moved to Olympia to attend community college, and found out about a cat shelter nearby that would accept volunteers. I immediately jumped at the chance, excited about the opportunity to help the cats, and to gain experience I hope to use in an animal-related career. I started volunteering at Feline Friends in September, loving every moment of it since.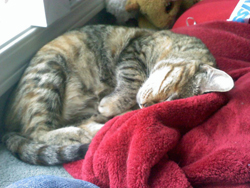 In the meantime, I would come home from the cat house to two of my own cats. One of these I had had since I was seven years old (I'm twenty now), and was, as cheesy as it sounds, my other half. She was my very best friend; I couldn't go anywhere in the house without her diligently padding along behind me, and every night she slept right on top of me, and would greet me when I came home with happy meows. After so many years, she of course started to get older. Her health slowly worsened, until a week before Christmas we finally had to say goodbye.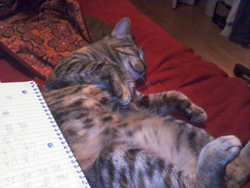 I was devastated, but found some comfort in volunteering at Feline Friends. I had taken to one cat in particular at the shelter, and after about two weeks, I told my mom (who I live with) that I was ready for another cat. I took her to the shelter on adoption day, the first day of the new year, and showed her this cat I was fond of. But while we were there, my mom seemed to like another one there better: a little patch tabby I hadn't interacted with too much, named Zuzu. I knew from volunteering there that she was sweet, but shy. She would hardly leave her cage when it was open, only hiding under the cages when she actually came out. She was very cute, a little tubby, and had the loudest purr I'd ever heard on a cat. Every time we walked over to her cage she would flop right over on her side and demand her tummy to be rubbed.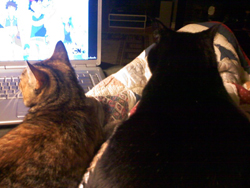 We were told that this little girl was the kind of cat that needed one person in particular to bond to, to take care of her. In other words, exactly what I was looking for after the loss of my cat. I was also told that Zuzu seemed to like me a little more than anyone else that spent time with her, which brightened my spirits. I looked again into that little purring face, and I thought she could be a great friend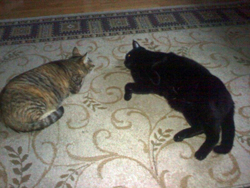 So I left the cat house that day ready to start the new year with a brand new companion, and ready to welcome Zuzu into my home. I was a little nervous, considering how shy she was, and I wasn't sure how my other male cat would react. She stayed the first two weeks in my room to get used to the place, but sooner than I expected she was ready to explore. To mine and my mom's surprise, Zuzu immediately blossomed. We still joke that we got the wrong cat by accident and the real Zuzu is still hiding somewhere, because she's so different than the shy little thing from the shelter. She became a crazy ball of energy, always dashing up and down the stairs after her various toys, confidently marching right up to my male cat and rubbing on him like they'd been friends for years. She perfectly fits the 'annoying little sister' role to him, always mimicking him and following him around wanting to play.