Hansel and Gretal's Story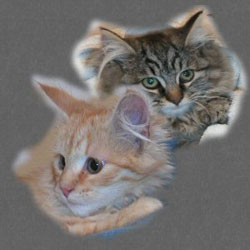 Feline Friends named these two little ones Hansel and Gretal because of where they were living. A kind and wonderful lady emailed us explaining they had recently moved to a new home and two kittens and their mother had been abandoned there. They were feral to a point, meaning they would follow her around the yard, take food from her hand and allow her to stand by them when they were eating, but they wouldn't let her reach down and pick them up. Can you imagine how sad they looked when they would stand at her glass doors and look in on her two pampered loved indoor cats.
The log they were living in was brushed clean.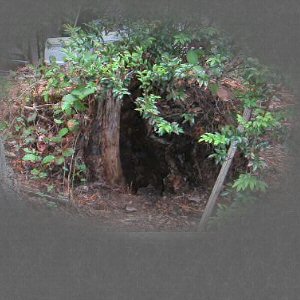 It provided more shelter than many of our abandoned friends have, but it is still no place for the beautiful little ones and their mother.
Immediately after we captured them they were taken to the veterinary for blood work and innoculations. Thankfully they all tested negative for Feline Luekemia and HIV. All three were incredibly frightened and displayed their little teeth with sharp hissing noises, but it wasn't long until both of the kittens were settling down and the little golden one was actually snuggling.
Unfortunately it will take longer for the mommie to trust humans.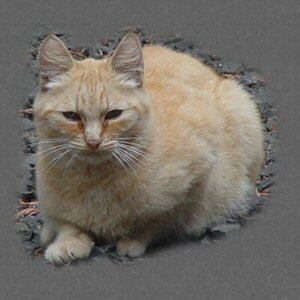 The two kittens were put into Feline Friends adoption program, however the momma cat, Cinnamon, will stay in a FF foster home for awhile. There she will receive extra love, care and attention. Hopefully some day we will receive stories from their new forever homes and we can put this trio on our
Happy Stories
page.
Ending with the GOOD in this story.... Debbie the lady who fed and found them help, not only gave her time, and love, she contributed funds for their care. If only all of our stories could end the way this one did!
This story really really really has a happy ending. To read more
click here